for Windows 11,10, 8, 7
Folder Guard is a is a powerful computer security software tool that you can use to password protect folder, hide your private files and folders from other users of your computer, lock folders and files with passwords, restrict access to Control Panel, protect system files from damage (intentional or not), and to control access to other Windows resources.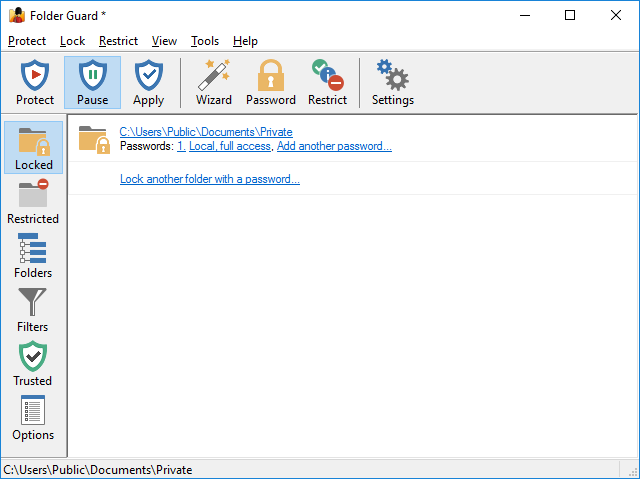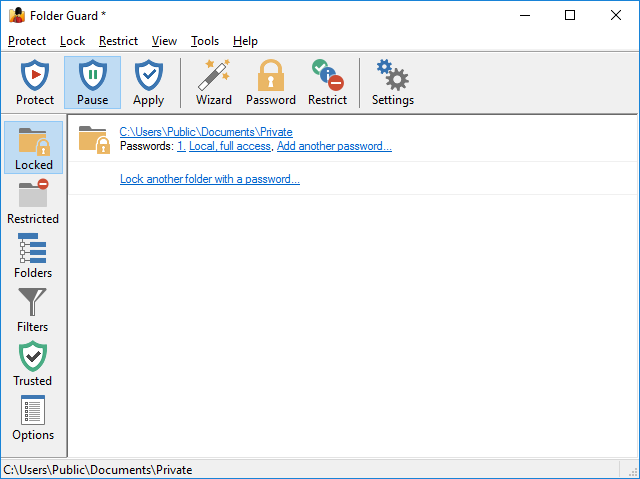 Hide files and folders
With FolderGuard you can hide any folder or file and it will be invisible to Windows applications, Office and even for MS-DOS programs.
Lock folders with passwords
Folder Guard can lock your private folder with a password, so that only you would be able to open the files and documents it contains.
Restrict access to files by their type
You can use Folder Guard to restrict access to the whole classes of files: for instance, you can specify that no user should be able to open any JPG image file unless you have authorized him or her to do so.
Protect your data from modifications
Other users as well as computer viruses can modify or destroy your documents, accidentally or intentionally. Folder Guard lets you make folders of your choice "read-only", and thus prevent their modification until you decide.
Control access to external drives
Don't want someone to copy your confidential documents to the removable flash stick or a USB drive? With Folder Guard, you can stop that. Don't want others to install unauthorized software from the external source? Folder Guard can help you with that, too.
Disable Control Panel
If you don't want other users to mess up your system configuration, you can use Folder Guard to restrict their access to Control Panel and various configuration tools of Windows.